What is Virtual Sports Betting?
Virtual sports betting is exactly what it sounds like on the tin. You are basically betting on "virtual sports" instead of real-life sports.
These virtual sports are usually played on your screen – and your role is to predict the outcome of the event. While the games are "played" on the screen, the results are determined using a state-of-the-art software. Besides that, every other aspect of the sporting event you are virtually betting on remains the same. The goals, offsides, yellow cards, and any other bookable or possible event in the game are all still offered. Since all these parameters are available, it means even the betting markets associated with them are also present.
Will you have to wait for the event to play out as the regular time? On the contrary, no! The maximum you will have to wait is between one minute to a maximum of five minutes. This is yet another feature that makes virtual sports betting very popular among Indian bettors.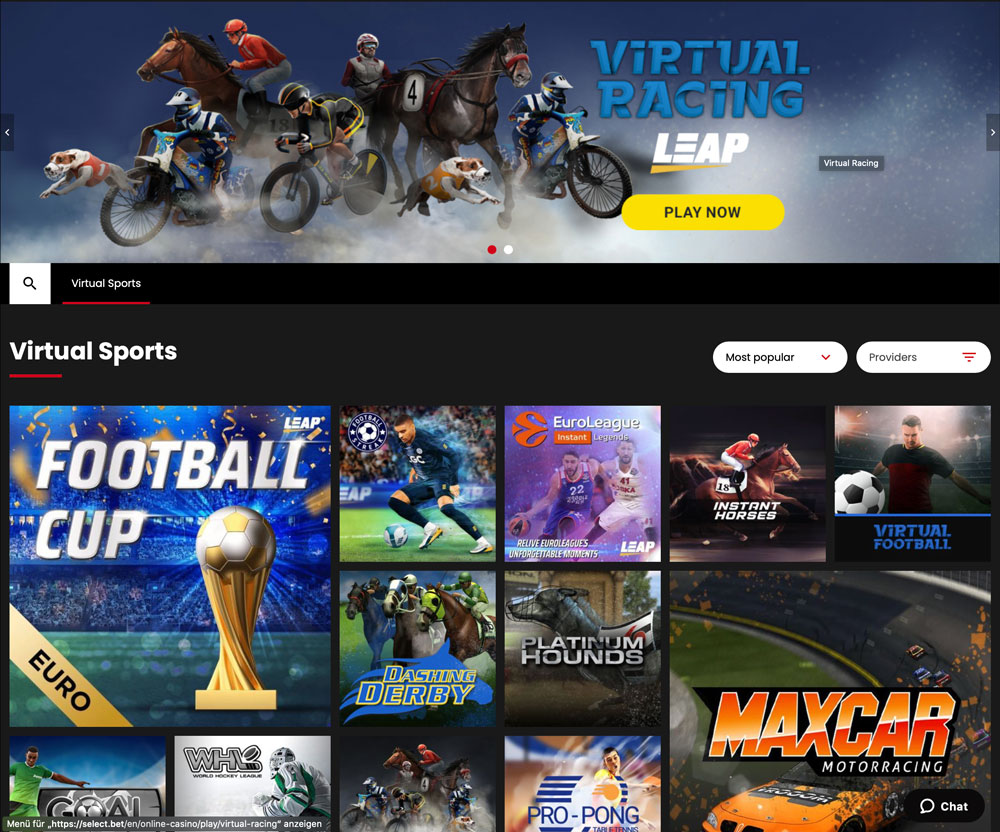 Extensive list of sports (both national and international level games)
Exclusive markets in football and basketball
Safe Payment Options
---
Sporting Events You Can Bet On Virtually
Virtual sports betting is a rather new development in the industry. Virtual betting sites cover different sporting events, ranging from domestic leagues, champions cups and world cups.
Under these competitions, you can expect teams from different competitions in India, Europe, and other parts of the world. Football isn't the only thing that's on offer. The betting sites also have virtual sports basketball betting. This is usually offered in the form of a thirty-round league season. You are required to back your favourite NBA team to beat their competition and win the title.
If you are not a big fan of football or basketball, there is also tennis virtual sports betting. The sport gives you some decent in-play odds, which offer some of the best live tennis bets globally. By choosing to bet on virtual tennis, you can pick from markets such as the game's results and set results. You can also opt to punt on individual points plus many other markets.
If you are into racing, you are offered something better. Pick from greyhound and horse races, where you can wager on your favourite animal to win a race(s) every few minutes.
---
Virtual Football Betting
As already stated, this is the most popular form of virtual sports betting. It is estimated that more than 10 million bets are placed on a daily basis, and its not difficult to see why. The number of events on offer at any time are mind blowing. These events are also settled fast, making it convenient for you to place a bet, know your result and place another bet.
There are different competitions covered, but three of them stand out across all virtual betting sites.
Virtual Betting World Cup
Thanks to virtual betting world cup, you can enjoy some of the best action online. Sign up today at any one of the virtual betting sites and back nations such as Germany, Brazil, England, France, Belgium and many more as they battle for world cup glory. Each world cup has right groups with four teams, as well as a knockout stage that leads to a thrilling final. You can wager on 50+ markets on each game, from simple odds such as correct score, match winner, as well as intricate markets such as total goals and double chance.
Virtual Champions Cup
Offers you the chance to rekindle the drama of European football throughout the year! The best clubs in Europe are pooled together in groups and descend on each other in a gripping tournament. Like virtual betting world cup, the champions cup also features eight groups. Each of the group has four teams and they all start compete against each other from the group stage to the finals.
Domestic Competition
The English domestic top-flight is one of the competitions where every player – the best of the best – want to play on. And it's no different with virtual sports. Indian betting sites offer you the chance to bet on your favourite teams – from London to Manchester. The 16-club battle usually takes place in 30 match days as opposed to the traditional 10 months.
All the virtual football competitions have season-long bets. As such, you should check them out before the start of the competitions to know the best bet to place. The best part about virtual football betting is that every competition offers you the latest league standings, trends and statistics. Through this, you can make your observation and place the best bet possible. And like any other sporting event(s), there can be upsets, which means that you have to be very careful on the bet you pick.
Very good betting odds, especially in football
Multi-view in the live centre
Virtual sports and casino on offer
---
How Virtual Tennis Betting Works
Like football, there is always something going on in the virtual tennis betting – and the odds are always fluctuating.
And like the real life tennis game, virtual tennis pays out really well. You can pick from a wide variety of betting markets and engage yourself in both pre-match and in-play betting. This means you can place multiple bets, which will settle at different stages in the match.
Thanks to in-play betting, you not only get the best odds possible, but you can also know the perfect time to place your bet. However, you need to notice that these matches are relatively short. Ensure you keep a keen eye as the events unfold so that you don't miss out on a decent/good price.
Plenty of sports to choose from
Live streaming is offered on selected sports
Very competitive odds
Spectacular welcome bonus
Plenty of sports to choose from
Live streaming is offered on selected sports
Very competitive odds
Spectacular welcome bonus
PariMatch Review
---
Betting On Virtual Horse Racing
In real life, horse racing is one of the most popular sport that people bet on. It, therefore, doesn't come as a surprise that virtual horse racing is one of the most popular forms of virtual sports betting. Because of the popularity, the event – virtual betting – offers you something throughout the day. This means that you have plenty of horses to back and races to pick from if you wish to bet. Of course, unlike football, horse race bets have to be placed before the start of the event. Pick selections such as "Win" bets, "Forecast and Tricast" bets as well as "Place" bets.
---
Betting on Virtual Greyhound Racing
And finally, as far as virtual sports betting is concerened, we have greyhound racing. Just like horse racing, this is another popular form of wagering in the world. You can also place bets throughout the day, 365 days a year. And just like in horse racing, there are four popular bets you can place – they include Win. Place, Forecast and Tricast.
---
Getting Started At Virtual Betting Sites – Registering, Depositing and Betting Online
Step 1: Choose The Virtual Betting Sites Wisely
While it may be easy to sign up, there is one big mistake many players do. Ignoring the right procedure, which starts by 'correctly' picking the betting site you wish to visit. This step involves running a background check on the website to ensure that:
It is licensed and regulated
It has a clean record and no major scandal that could affect you
It accepts players from India
Know whether it fits your betting preference i.e., it offers the betting markets you are after or if it has the sport you would like to bet on
It supports services friendly to Indian bettors. We are talking about payment methods, currencies, language and so on
If the betting site fits/checks all these sections, then you can proceed to the next step – registration.
Step 2: Register
The most obvious step and shouldn't be any difficult as most of the sites have the 'registration' button visibly placed. The button can either be located at the top right or left corner of the screen. You will have to click on the button and follow the due process to complete it within a few minutes.
In some cases, the registration process can take only a few seconds and is accessible by clicking on the 'pop-up' window that shows on the site.
Lastly, you can use any one of your social media accounts to create an account for yourself. Simply click on either the Facebook, twitter or twitch accounts and create an account for yourself.
During the registration process, you are required to provide some personal information. This includes your names (as they appear on a government ID), and your local address. While at it, you are also required to pick a strong username and password that it unique to your account.
Step 3: Verification Process
All sports betting sites and online gambling brands in general have this process. The verification process is simply a "Know Your Customer" sort of thing where you are required to produce/provide:
A copy of your government issued ID
You can substitute that with a copy of your passport or military ID
A copy of your utility bill or bank statement.
The first two set of documents are used to confirm identity. The utility bill is just to prove that you live within the country where the betting site is allowed to operate.
Step 4: Deposit
Once signing up and account verification is out of the way, you can now proceed and make a deposit. Indian virtual betting sites support a number of options that are friendly to the Indian bettor.
From debit/credit cards, to eWallets, pre-paid cards, cryptocurrencies and wire transfers, there are plenty of options to pick from.
To make your deposit, simply head over to the banking section and click on the "deposit" button. Pick your preferred method of depositing and enter the amount. Confirm your transaction to deposit money into your account.
Step 5: Bet
Unlike online casino gaming where you can play for free, sports betting requires you to make spend real money in order to win real money.
And since you've made your deposit, you are ready to start betting. Head over to the homepage, pick your preferred sport, select your market, enter the amount you wish to stake and confirm your bet.
Step 6: Withdrawing Your Winnings
If you are good/lucky enough to score some wins, they will automatically be credited to your account's balance.
From here you can decide to bet again or simply withdraw the winnings. Withdrawing is as simple and direct as depositing. If you've completed the KYC verification process, head to the banking section, click on the withdraw button and enter the amount you'd like to withdraw. Confirm your transaction and wait for your funds on the other end.
Depending on the payment method you've decided to use, your winnings should be with you within a few hours to a few days. Cryptocurrencies have the best processing time, which usually lasts under five hours for most online betting sites.
---
How To Bet On PC, Mobile Or Browser Online
Did you know that one you've created an account online you can access your account using the same login details and password?
Online betting sites have simplified things and you can use whichever platform that suits you best to bet: log instantly through your device's browser or use your iPad, tablet or smartphone to bet. All the betting sites have been designed and aligned to follow the same theme as far as theme, colour scheme and feel is concerened. This gives you the familiarity feeling every time you are betting online and makes it fun to bet.
For convenience on the move, the site's mobile optimized user interface is touchscreen-friendly. Also, the betting buttons and parameters are simple to use – just sweep and tap to bet.
---
Bonuses and Other Promotions – How to Claim Them
We've had a look at how we can create an online betting account and how to bet using the mobile platform. Are you ready to start betting yet? Not quite. There are a few other aspects that you need to familiarize yourself before betting online. And one of these few other aspects is get your head wrapped around are bonuses and promotions.
As soon as you've created an account, the betting site will offer you a welcome bonus offer, which is the first of several other offers. You can use the welcome bonus to bet and win real money. This money can be used to bet or simply be withdrawn – whichever way that you see fit to use it.
In addition to the welcome bonus, there are other offers you can claim and use to bet online. They include:
Free bet bonus – awarded on special occasions, especially in the form of an in-play bet. You can also receive it as part of the welcome bonus
Reload bonus – given when you top up your account
VIP bonuses – if you are a big spender, betting sites will from time to time offer you special offers through their VIP program. The higher you are ranked in the VIP scheme, the better the offers you receive
Very good betting odds, especially in football
Multi-view in the live centre
Virtual sports and casino on offer
Very good betting odds, especially in football
Multi-view in the live centre
Virtual sports and casino on offer
Betonic Review
---
Wagering Requirements and Other Important Terms and Conditions
We've mentioned wagering requirements, but what exactly are they? How do they affect your bonus? And what are these other terms that you need to know before claiming the bonus on offer at the betting site? What do you need to look at to determine whether the bonus is offering you a good deal?
Wagering Requirements
They are sometimes referred to as the rollover requirements. This is simply the amount of money you have to spend in order to withdraw/use your bonus. At the online betting sites, they are usually indicated as x(number). For example, you will get a x5, x25, x45 or x50 wagering requirement. The higher the number, the less attractive the bonus.
How do they work? If you are awarded a ₹1,000 welcome bonus with a x5 wagering requirement, it means you have to spend up to ₹5,000 in real money before you can withdraw your bonus. A x50 wagering requirement means spending up to ₹50,000 before withdrawing your bonus.
Other Important Terms and Conditions
The wagering requirements as we always state are the most important as far as sports betting bonuses are concerened. This is because all the other conditions hinge/revolve around them. These other conditions include:
Odds – you need to place a bet at a certain minimum odds for that bet to contribute to the wagering requirements. The lower the odds the better
Sports – a few selected sporting events can contribute towards the wagering requirements. The more the sporting events, the better
---
Virtual Betting Online Tips and Tricks
How does one get the most out of virtual betting online? There are several tips and tricks that one can follow or observe. Some of these are pretty basic and straightforward, but the difference they can make will surprise most of you.
Do you want pre-match or in-play betting?
Before placing a bet, ask yourself what form of betting you'd like to involve yourself in. Pre-match bets are those that you place before the start of the match. In-play bets on the other hand are those that you place as the event proceeds. If you are looking for value in odds, the latter is most recommended to everyone.  However, not all sporting events are covered or offered in in-play betting. This makes it somewhat limited to football and cricket. The number of markets offered during in-play are also more diverse than those that you can find in pre-match betting.
Understand the game odds before betting
Sports betting odds are the backbone of sports betting. Without them, you would not be able to get any value in sports betting. This, therefore, implies that you need to understand how to interpret the virtual betting odds to know if you are getting a good deal or not. You also need to know the different sports betting formats available. Decimal, fractions and American odds are the most common ones and each has its advantages and disadvantages.
Pick a sport that you are well conversant with
You don't want to bet on a sporting event that you know nothing about! Playing football on the field is not the same as betting online. This applies to tennis, horse and greyhound racing too. The rules are only used to set some markets in virtual betting and its your duty to fully understand these markets before you can start betting.
A good understanding of the sport also gives you the chance to know the best market to pick from. For instance, football has more than 80 markets and not all these markets offer you value. Therefore, knowing that Asian Goal Line betting reduces your risk as compared to the overs/unders goal market can be the difference between winning and losing.
Don't spend more than you can afford to lose
This is a rule that has been written on stone – don't gamble money that you cannot afford to lose. If you do this, it is the surest way of getting into bad debt and consequently developing some sort of gambling addiction. If you can afford only ₹1,000, ensure that you budget well for this and not spend more than it.
---
Sign Up Today Using One Username And One Password Across Board
Once you have the above, the world is your oyster. We don't believe in re-inventing the wheel (unless one can improve on it), so logging in works the same no matter which platform you play on: this way you can enjoy a seamless gaming experience that suits your mood and your wallet anytime, anywhere. Get exploring and make the most of your time at Euro Palace – here's for your next big win!
---
Virtual Sports Betting Sites: FAQ
Is It Legal To Bet Online In India?
The legality of sports betting online in India remains to be a grey area. There are no laws that explicitly define or guide online sports betting in India. This, therefore, means that anyone can participate in online sports betting and not stand a chance to be charged for breaking the law. In fact, in the history of India online sports betting, there has not been one bettor who's been charged for betting online.
Why do virtual betting sites give out bonuses?
There are thousands of virtual betting sites online, with each one offering almost the same type of product. To distinguish itself from the rest, an online betting site will have a bonus for its new and returning members. The bonus and promotions will serve two purposes: to attract new bettors to the site and ensure those that have signed up continue betting with the site.
Is the bonus money free?
It is free money with a caveat. In order to withdraw or use the free money, you need to satisfy some terms and conditions set by the betting site. These conditions include by not limited to wagering requirements, minimum deposit amounts among many others. Read through the terms and conditions to see if the terms are favourable before claiming the bonus.
Do I have to produce a copy of my ID to start betting virtually on sports?
Yes, this is a requirement by law. In order to prevent any form of money laundering and any activity linked to the same, all betting sites are required to verify the identity of their players.
What happens if I don't complete the KYC verification process?
Any money in your account will remain withheld for as long as your account is not verified. For some online betting sites, you need to complete the KYC verification process within a certain period. Once the time lapses, your account will automatically be closed.
Do I have to download an application to bet on sports?
No, you don't have to download any mobile application to bet on sports online, but it is an option that's available for any interested user. Thanks to mobile browsers, you can have an optimized betting experience, the same on offered on the PC platform, and which does not require you to download any app.